TTM Backs Innovation At The Blackrock Health Awards
Working together to Drive Innovation
At TTM Healthcare Solutions (TTM) innovation runs in our blood and progressive thinking is key to helping us Power the Potential of our partners and talent. We're inspired too by healthcare professionals across our sector who share our passion to innovate, which is why we were delighted to be a sponsor for the inaugural Blackrock Health Innovation Awards, which took place on Friday 3rd March at Barberstown Castle in Kildare.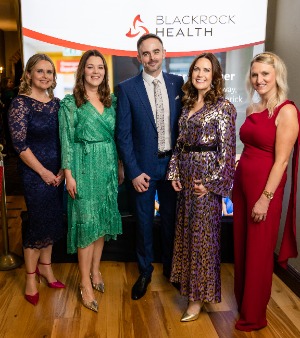 TTM's Paula McDonnell, Tommy Lees, Therese Breen, Lorraine Ryan and Cliona O'Gara attended the awards which acknowledge and celebrate innovative contributions by individuals and teams within Blackrock Health. Blackrock Health has established itself as future-focused and dynamic, always evolving to meet the needs of its patients. Innovation is an important part of the group's strategic mission as well as a core value, and the Awards are an opportunity to shine a spotlight on breakthrough developments across the group's sites - Blackrock Clinic, Galway Clinic, Hermitage Clinic and Limerick Clinic. The Awards also provide a forum to celebrate success and thank participants.
Innovation Through Collaboration
TTM was proud to sponsor The 'Outstanding Innovation Carried out by a Team' Award. This award recognises a team's use of innovation in supporting the patient and staff experience, across the group. Each participating cross-functional or work-unit team had to demonstrate how its members collaborated towards a common goal which contributed to the success of Blackrock.
TV personality and hotelier Noel Cunningham hosted the Awards, and Blackrock Health CEO, Dr Caroline Whelan, described the success of the evening:
"We had over 140 award submissions, all of them phenomenally inspiring and representing the values of the Group. Each submission represented eight or ten people and a network of colleagues who came together to solve a problem. The Awards night was a chance to celebrate these individuals and for them to share their ideas across the Group."
The TTM-sponsored Award was won by Hermitage Clinic, Discharge Medication Service for outstanding innovation carried out by their team.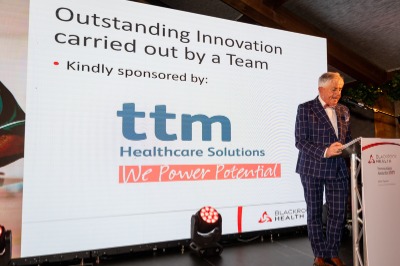 Mirroring the Spirit of TTM
The awards perfectly mirror TTM's focus on innovation, as we continue to develop forward-thinking solutions to meet the needs of our partners and talent.
In this our 21st year of business, we are globally recognised as a leading provider of specialist healthcare solutions - and our innovative spirit has always led the way. With our total dedication to healthcare, we are able to fully understand the unique challenges our partners and talent face and deliver progressive solutions that make a difference.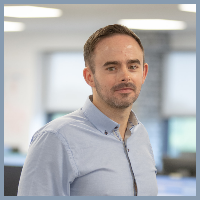 TTM Commercial Director, Tommy Lees explains:
"We have a real appetite to find innovative solutions to answer the needs of our partners and talent, which are continuously evolving. We've seen how our partners need to focus on developing smarter processes and ways of working, to ensure better patient and service-user experiences - and this inspires us.
We've always been proud of the role we play in supporting frontline acute and community services. We understand that our partners operate in a time-challenged environment, where support is often needed at a moment's notice. Our investment in workforce management technology over the past 12 months positions us to be able to connect our partners with our compliant workforce in real time, removing the standard booking process inefficiencies. We are passionate about continuously innovating and improving the experience of both our candidate and partner stakeholders and our workforce technology platform makes this impact.
Our partners also trust our International Workforce Solutions to recruit for a complete range of health professionals in a timely and seamless end-to-end process. Through conversations with our partners about their pain points, we identified pressures around nurses passing the OSCE test, which assessed their ability to competently apply professional nursing or midwifery skills and knowledge in the UK. As a result, we have developed a tailored OSCE Part 2 Preparation Course, which is self-directed accessible on any smartphone, tablet or computer. This gives international nurse arrivals the best chance of passing their OSCE at the first attempt, while equipping them to meet NMC nursing standards and helping the burden on our partners organisations.
Our Healthcare Process Outsourcing (HPO) Division continues to evolve as we work alongside our partners to meet their day-to-day challenges outside of domestic and international workforce management. By working closely with our partners, we continue to develop innovative solutions with our healthcare workforce solutions such as RPO and MSP, healthcare backoffice processing, and clinical and healthcare administrative service.
It's this kind of thinking that's changing the way we work with our partners, helping them to be more agile and effective in their service delivery. That's collaboration and innovation at its best."
We thank the Blackrock Health Awards for an inspiring evening and congratulate all the winners.

To find out more about TTM's ongoing innovations in healthcare and how you can benefit, contact our team via the form.

List of Winners on the Night
1. Outstanding Innovation – Clinical Area Award: Joint winners: Galway Clinic, RARP information and support programme | Hermitage Clinic, Genesis Point of care implementation in Operating Theatres
2. Outstanding Innovation – Non-Clinical Area Award: Blackrock Clinic, Hospital Reception
3. Outstanding Innovation Carried out by a Team award: Hermitage Clinic, Discharge Medication Service
4. Outstanding Quality Improvement through Innovation: Blackrock Clinic, BEAM image & report sharing project team
5. Excellence in Leadership through Innovation: Galway Clinic, Data Driven Quality Dashboards & Updates
6. Innovation Award to a New Star Staff Member: Hermitage Clinic, Phil Keane Egan
7. Innovation Award to a Long-Serving Staff Member: Blackrock Clinic, Joan O'Riordan
8. Commitment to Research: Joint winners: Blackrock Clinic, Sarah Crosbie | Galway Clinic, Peter Woulfe
9. Increased Sustainability through Innovation: Blackrock Clinic, Accounts Payable Document Management