Introducing Healthcare Process Outsourcing
Whether in acute, community, frontline or non-frontline services, in public, private and voluntary/not-for-profit sectors, the challenges the healthcare sector is facing in terms of administrative burden, staff shortages and waiting lists, are formidable. The Department of Health's 2022 Waiting List Action Plan, states an estimated 1.5 million patients will be added to active waiting lists this year alone.
At TTM Healthcare Solutions (TTM) our specialist teams understand that now more than ever, our partners are focused on developing smarter processes and ways of working to deliver better patient and service user outcomes. Our Healthcare Process Outsourcing (HPO) Division has been in introduced in direct response to our partners evolving needs.
In the highly specialised world of healthcare, we are proud to be recognised as the proven provider of end-to-end healthcare process outsourcing, supporting our partners internal processes and teams. We are specialists in healthcare solutions.
Outsource your noncore activities
HPO allows you to outsource your noncore activities to TTM's expert teams who specialise in providing Healthcare Business Process Outsourcing, Healthcare Workforce Solutions and Clinical & Administrative Healthcare Services. Enabling your organisation to become more agile, and able to respond to changing requirements at speed.
TTM bring our expertise, experience, processes and extraordinary passion for the healthcare sector, to take care of essential back- and front-end processes and tasks – leaving teams like yours free to focus on what they do best: building and growing your services.
View our full range of solutions or speak with a member of our expert team today.
How HPO will benefit your Organisation:
Healthcare Business Process Outsourcing: We partner with you, to relieve you of your administrative burden. From compliance outsourcing and pre-employment checks, to managing your waiting lists and providing back-office processing functions – we offer flexible and scalable administrative outsourcing solutions.
Healthcare Workforce Solutions: Equips you with the expertise of on-demand recruitment teams that will manage and improve your recruitment process through our Recruitment Process Outsourcing (RPO) and Managed Service Provision (MSP) service offerings.
Clinical & Administrative Healthcare Services: Providing specific bespoke services helping reduce your processing times and waiting lists. Our specialised team of Clinical Therapists and Administrators conduct necessary assessments and complete reports, ensuring your organisation meets all statutory obligations. We also provide a quality client- centred Occupational Health Screening service, customised for your specific requirements.
The Strength of Partnership in action
As part of our Clinical & Administrative Healthcare Services, our multi-disciplinary team will provide Autism Assessments for 200 children for CHO Area 6 - HSE. Our expert team of 10 Clinicians including Clinical Psychologists, Speech and Language Therapists and Occupational Therapists will directly impact the waiting lists of assessments for children in the Wicklow / South Dublin region. Our specialised team of Assessment and Liaison Officers are on hand to complete Assessment Reports (including onward referral letters) for children and young adults, as well as the provision of Liaison services to manage the provision of all identified needs
Why Partner with TTM Healthcare Solutions?
When you partner with our HPO division, we bring an agile, insights driven, results focused approach to each project. We work as an extension of your organisation, applying deep healthcare intelligence, world class tools, and over 20 years of extensive industry expertise.
Our solutions are designed to help you respond to the changing needs of your organisation – harnessing increased cost and productivity efficiencies and accelerating outcomes.
Meet the HPO Team:
Led by Paul Bellew and Therese Breen, our expert team would love to help. At TTM Healthcare Solutions, we are dedicated to enhancing the quality of people's lives; to delivering the best solutions and talent for our partners. We believe that partnership starts with a conversation.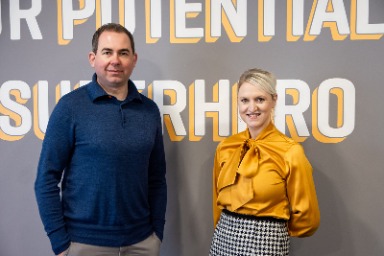 Paul Bellew, Business Manager & Therese Breen, Business Manager- Healthcare Process Outsourcing, TTM Healthcare Solutions.
​
​
​
​