Studying For A Degree In Recruitment
The Latest from Our New Graduates and Undergrads…
In 2020 the Employment and Recruitment Federation (ERF) in partnership with the National College of Ireland introduced the Executive Apprenticeship BA (Hons) Degree in Recruitment Practice. An innovative WORLD-FIRST, the course lets recruiters study towards a QQ1 Level 8 qualification while working and TTM was one of the first companies to offer this study opportunity to its team members. Here's an update on their learning journey so far…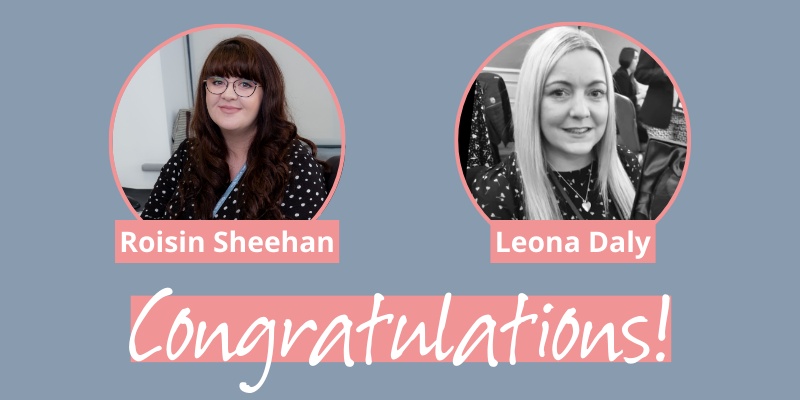 AHP Team Leaders Roisin Sheehan and Leona Daly began their ERF studies in 2020 and have just completed their degrees with exceptional results. Both received 1:1 and we're enormously proud of their achievement, hard work and commitment. The future looks bright!
Meanwhile, two members of our team are excited to be starting their second year of the year degree course in September. Nessa McNamara is a Talent Acquisition Specialist with TTM's Temporary Nursing team and Alena Ovchinnikova is Associate Recruitment Consultant with our Social Care Division. We asked them to tell us more about how the course works and what it means to them: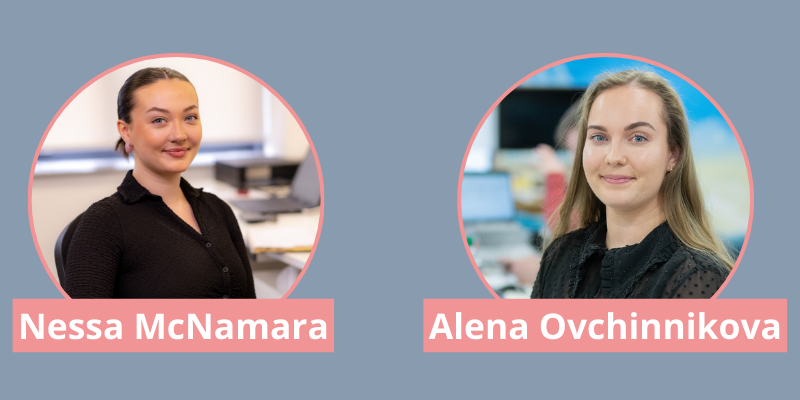 Why did you choose to do the degree?
Nessa: I have always wanted to do a degree, and when I discovered my love for recruitment, doing the degree made so much sense. It's the only one in the world, it's really progressive, and I knew this was my chance to develop and grow my career. Also, TTM pays for my studies - which is a massive benefit.
Alena: I had been working in Talent Acquisition at TTM for three years and wanted to move up to become a Consultant. I saw the degree as a valuable steppingstone, so I chatted to Leona and she supported me 100%.
How is the course structured?
Nessa: College is one day a week - every Thursday - with online lectures from 9am to 5pm, which we can attend from home. Twice a semester we go up to Dublin for in-person lectures. Being able to mainly study online makes the course so convenient and accessible.
Alena: There are two semesters and each are 10 or 11 weeks long. We have four modules on each college day and one tutorial. The course is completely assignment based - so no exams - with one assignment per module per semester.
Did you have any initial concerns about the course?
Nessa: I wondered about the workload but I spoke to Leona and she reassured me that if you're organised, you'll be fine. The important thing is to keep up with the work because the semesters are short and before you know it your assignments are due. But I love what I'm learning and that makes all the difference.
Alena: I was a bit worried about the level the course is aimed at as I wasn't a Consultant in the beginning. But there's a real mixture in our class - from experienced recruiters to those who've just finished their Leaving Cert. The first year gets everyone on the same level and prepares the groundwork.
Tell us more about what the course covers…
Nessa: Last year our modules were Introduction to Recruitment, IT, Sales and Negotiation and Career Management. We're looking forward to seeing what modules we'll be doing in our second year.
Alena: We've covered so much - from understanding profiling and psychometric testing of candidates, to the legal and ethical side of things. Our lecturers are excellent and they're all working in recruitment - so there's a great balance of theory and practice.
What has been a highlight so far?
Nessa: I really enjoy the in-person lectures in Dublin as a chance to meet up with people and network. There are people from Dublin, Belfast, Cork, Galway, Clare - everywhere. There's a good split of people from businesses with their own recruitment departments and recruitment agencies - and I'm enjoying finding out how other people and organisations operate.
Another highlight was when I got my first-year results! I was so pleased to have done well!
Alena: As students on the course, we were invited to the ERF Conference - along with our TTM managers. There were some brilliant speakers, and it was such an inspiring, motivating experience.
Have you managed combining work and studies?
Nessa: I'm managing fine. When your assignments are due you do have to knuckle down, but it's manageable. And the one college day a week hasn't affected my work results - I'm still making my targets.
Alena: I've worked and studied before so I know how to manage it. It can be tough around assignment submissions but it is all worth it for the knowledge and experience we are gaining.
What are some of the benefits you can see so far?
Nessa: You get to mix with and learn from the best professionals in the business. I am growing my understanding of my work and getting a balanced experience of the industry. There's also good knowledge transfer between work and studies. As this is Work-Based Learning we keep journals of what we're learning and record how we solved a challenge at work with something we've learned on the course. And you can use your work knowledge to inform your assignments - so there's great cross-over.
Alena: Career progression definitely - by acquiring knowledge that is so much more than theory. Also, the chance to access different people's experiences is so valuable. For example, you can find out how others have solved a particular challenge. Our class has a group chat going and it's a very collaborative and supportive space.
How Are You Being Supported by TTM?
Nessa: The company couldn't be more supportive. Louise Dwyer was appointed as our Mentor, and she's been fantastic. As part of Work-Based Learning we give presentations on the course to the company, and Louise sits in on those. She provides feedback on assignments and gives guidance and advice.
Alena: I feel that TTM is interested in and supports my learning. We have the best Mentor in Louise, and it's good to be able to talk to Roisin and Leona too. TTM also helps with the practical stuff: our People & Culture department handled our applications for the course and managed all the onboarding.
"ERF BA (Hons) in Recruitment Practice is the perfect course for those looking for long term recruitment careers with the added value of an academic qualification at the end. This 'apprenticeship' allows you to continue working and earning all while furthering your career academically. A fine mix of academic assessment and practical learning makes this course engaging and relatable to all those who undertake it." -Louise Dwyer, TTM Business Manager
Like to know more about growing your recruitment career with TTM?
Learn more here.