Honouring Our Everyday Heroes
We know that TTM's success is built on exceptional candidates and in recognition of this we'll be highlighting TWO TTM HEROES EVERY MONTH as part of our Candidate Appreciation Programme.
Through our HEROES programme we'll select ONE agency candidate from Ireland's Temporary Division, and ONE from our UK Domestic division.
Check out our monthly HEROES below:
Our January Heroes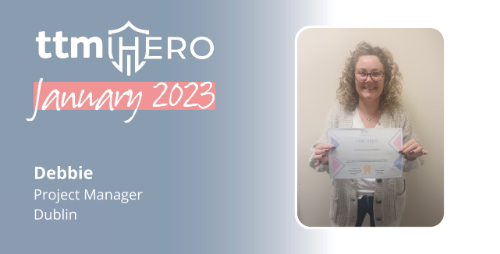 Debbie K.
Project Manager
Dublin
Debbie joined TTM Healthcare Solutions in 2021 as a grade VII Clerical Officer. She is now working in Dun Laoghaire Rathdown County Council - Ballyogan Site as a Coordinator.
"Debbie is a valued member of the TTM locum team and would be considered part of the internal office at this stage. She has been a huge asset to the business since she was appointed as the lead coordinator of the Ballyogan temporary rest centre for those fleeing war in the Ukraine. She is now fully managing the sites day to day operations and responsible for the safety and welfare of up to 300 residents. Debbie has also been a key contributor to other similar projects that TTM have been aiding the Department of Children with, and has always gone out of her way to support with site visits and assessments of needs resulting in the win of other projects. Nothing is ever a problem for Debbie and she is always there on the other end of the phone to support anyone."
- Lorraine Ryan, Business Manager Temporary Ireland Division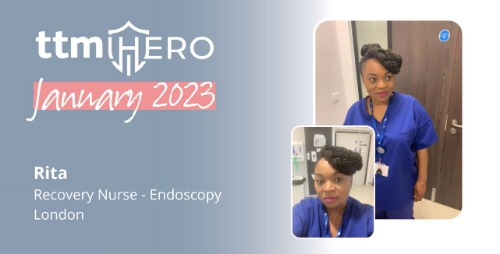 Rita O.
Recovery Nurse - Endoscopy
London
Rita joined TTM Healthcare Solutions in 2018 as a Endoscopy Nurse. She has worked an incredible 3100 hours to date!
"Rita was one of the first nurses on my Team. Having orientated herself in the field of Endoscopy, Rita consistently goes above and beyond to support. Rita is extremely hard working, reliable, punctual and is a leader in her very specialised field having supported other agency nurses to learn new skills and initiate them on the client's units. Rita overcame serious health issues last year and has returned stronger than ever. It is an honour to work with her and I look forward to working together in the years to come."
- Claudia Faraoni, Recruitment Consultant
​
Our February Heroes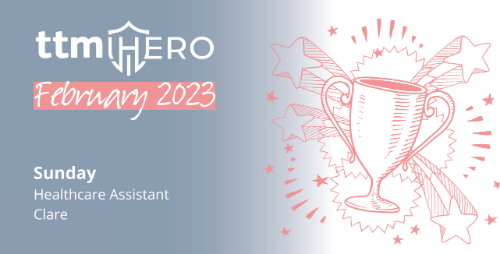 Sunday E.
Healthcare Assitant
Clare
Sunday joined TTM Healthcare Solutions in 2015 as a Healthcare Assistant.
"Sunday is very hard working and passionate about his job. He is being recognised for the role he played in saving a residents life in a choking incident by appling his knowledge from first aid training. I was delighted that Sunday came in to our office in Ennis this month to receive his award. I look forward to working with Sunday in the years to come!"
- Sarah Lynch, Recruitment Consultant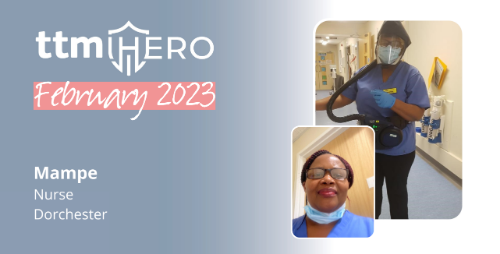 Mampe N.
Nurse - Endoscopy
Dorchester
Mampe joined TTM Healthcare Solutions in 2019 as a Nurse.
"Mampe is an exceptional high calibre nurse with very high working standards, extremely professional and reliable. She is also a very kind person, always willing to help and overcome any challenges. She has been block booked by Dorset County hospital for years as, they too, recognise her outstanding skills, professionalism, ability to be in charge and a caring personality. I look forward to working with Mampe in the years to come."
- Zivile Vaidanaviciute, Senior Recruitment Consultant
​
​
​